A dude ranch… a place to go where so little has changed.
Activities on a Montana Dude Ranch are Endless
Especially when we are so eager to share our home, the Treasure State, Montana's Big Sky Country. One of our main goals is to have your day so filled with opportunity and wonder, that the days will never be long enough for all that you want to do… or where you want to go. Or perhaps we can share a special stream to teach you fly-fishing. Have a picnic, read a book, or just be in a place where there are no schedules at all. We'll cater to your dreams and exceed your expectations… come see us in Montana!
Horseback Riding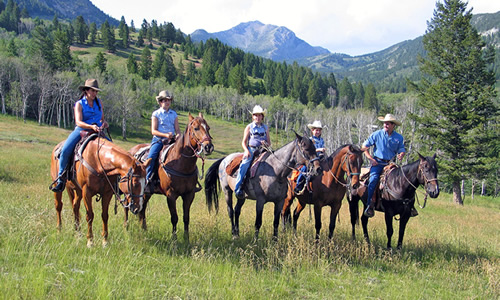 Riding on a guest ranch should be your first priority. Every ranch in the Montana Dude Ranchers' Association is known for their outstanding horseback riding programs and must conform to industry standards. Whether you are a beginner rider or advanced, our horseback riding opportunities are incredible. We love to teach horsemanship skills so that every rider comfortably enjoys their mount and the scenery. From hour long to all day rides, working with cattle and doing ranch work, or joining a pack trip in the back country, the best way to see Montana is from the back of a horse!
Fishing
Experience the opportunity to fish our native streams, rivers, and lakes. Perhaps combine a back country trip with fishing as your main goal. Our ranches can offer you special guides and lessons, drift boat fishing, and even special programs for our young fishing enthusiast.
Children's Programs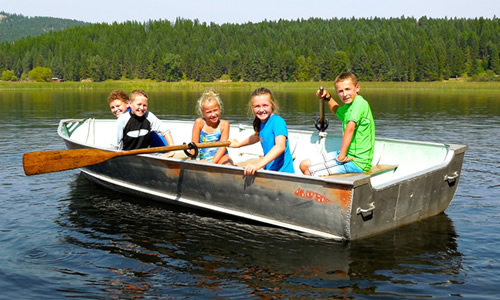 Many ranches offer special programs and activities for your children and teens. There are opportunities that compliment your family's schedules or non-schedules. Superb horseback riding programs geared to kids, outdoor crafts, adventure hikes, swimming, and endless time playing outdoors in the fresh air is what being a youngster on a ranch in Montana is all about.
Hiking
While choosing a ranch, the location of the ranch and the terrain can play an important part of what sort of opportunities there are for hiking. Some of our ranches offer naturalist programs, offering information about the flora and resident wildlife. There could be bird watching or fantastic opportunities to learn to read animal tracks. How about a visit to Yellowstone National Park or Glacier National Park? Each ranch has their own secret place yet to be discovered.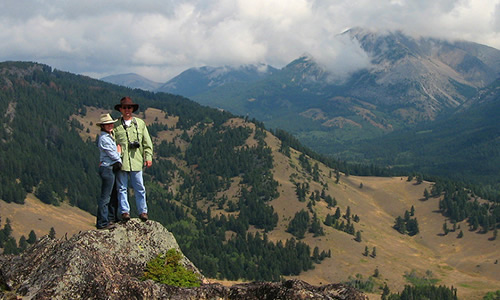 Many of our ranches host other activities that are made for your perfect adventure. There are ranches that set aside certain times for adults or singles, and also special family weeks. Be a part of photographic week, or special times with an artist. Always wanted to be a true cowgirl? Some ranches set aside specific weeks – Wild West Women Adventure. Learn how to track animals or identify birds of the Rocky Mountain region. Some ranches offer horseback pack-trips into wilderness areas, others offer 4 x4 trips, rafting, skeet shooting or interpretive tours. Have you ever seen Montana in the fall? You can't beat the sound of the aspen trees as their leaves shimmer in the autumn light. Join us for the fall foliage, wet your fly line in our fantastic waters… you'll probably hear the elk bugling close by.
Let us know your dreams, and we'll help you live them at a Montana Dude Ranch!
Explore Our Ranches