Wild West Adventures – For Ladies Only!
I recently had the opportunity to participate in the Wild West Women's program at Mountain Sky Guest Ranch near Emigrant, Montana. This program books months in advance and I was fortunate to get in when they had a last-minute cancellation from May 11-16. There were two other dates offered this month as well, from May 18-23 and May 25-30. The program allows women of all ages (minimum age 21) to connect with the land, be a cowgirl, and enjoy an authentic guest ranch experience. With the opportunity to enjoy Montana's pristine Rocky Mountains just minutes from Yellowstone National Park, this is the perfect girls-only western getaway.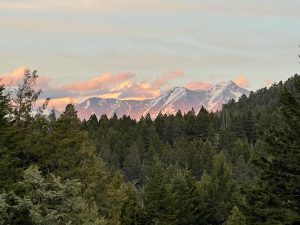 In addition to daily trail rides we gals had the opportunity to participate in a variety of unique horsemanship activities and interactive demonstrations on Mountain Sky's working cattle ranch. Many of us participated in team penning, where you ride your horse to move cattle into a pen. It's not as easy as you may think; it's challenging but loads of fun!! Sounds exhausting, but no worries. Massages are available on a daily basis with reservations required. There is also an outdoor hot pool and hot tub as well as an indoor Grotto hot pool to relieve your saddle sore and other aches. Yoga and meditation classes, sun salutation hikes and wellness walks, clay-shooting, an 18-hole golf course and more are also available. Note – the cost for some therapy treatments such as massages are not included in the package and are an additional cost.
The ranch is nestled in the Gallatin National Forest in an area we Montanan's call the Paradise Valley. This section of Montana runs south from Livingston to Gardiner on US Highway 89. The ranch's proximity to Gardiner, the original entrance to Yellowstone National Park is approximately 30 miles, and the ranch offers a day trip to America's first national park. Mountain Sky is located on 17,000 acres of unspoiled ranch property and on the Gallatin National Forest. This setting is a rider and hiker's dream. A 3-4 course gourmet meal is the perfect treat at the end of a long day, but save room for a night cap and some two-stepping to local musicians in the saloon. And that's not all! Their breakfast and lunch menus are varied, healthy and delicious, and include a variety of pastries made in house by their pastry chef. There are snacks provided during the day and tasty hors d'oeuvres during cocktail hour.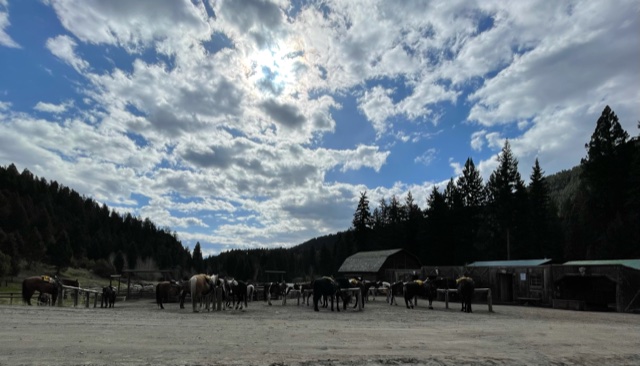 Do you need to cowgirl up? The gift shop is amazing and stocks a variety of ladies, men's and children western wear from which to choose. Many other items are available for all ages including some Made in Montana products. 
If you want to be pampered, have fun, and meet ladies from all parts of the USA, this is the package for you.  Some participants have been attending for over thirty years! They will welcome you to the group with open arms and give you lots of tips on activities in which to participate. You will be greeted by Managers Tim and Meg Dyer and their incredible staff. They ensure that every need is met and go the extra mile to serve their guests. Western hospitality is in full swing at this ranch, and when you depart, you'll feel like one of the family.
For more information on this package and others, as well as six-night, seven-day stays from early May to mid-October, go to their website at mountainsky.com for more information, including annual rates, season and activities.
And finally, a shout out to Tim, Meg and the rest of the crew. You made this a vacation of a lifetime and I can't wait to return in 2022!