Gems of Montana
Montana sapphires and Montana agates have shared honors as the state's gemstones since 1969.
A distinctive sapphire is mined here and is known as the "Yogo" Sapphire. This name refers to sapphires found in Yogo Gulch near Lewistown, MT. The first sapphires were discovered in Montana in 1865 in alluvium along the Missouri River about 14 miles east of Helena. The discovery of gold in Yogo Creek in 1866 where "blue pebbles" were seen alongside gold in the stream alluvium, but it was not until 1894 when they were actually recognized as sapphires. The Vortex Mine near Utica, Montana supplies Yogo sapphires to jewelers around the world. (source: Phil Connelly/Ravalli Republic).
Sapphires can be found in a few areas of Montana, most notably in the town of Philipsburg. Sapphire mining is one of the most popular attractions in the Philipsburg area, offering the singular experience of digging and sifting through gravel in search of rare, fine gems. Sapphires were first mined in the Rock Creek deposit about 1892; since then Montanans and visitors from all corners of the country have enjoyed mining gemstones for fine jewelry.
Rock Creek sapphires display distinctly crisp and sharp colors, with a character and beauty all their own, ranging from the classic cornflower blue to red-orange, yellow and mint green. The sapphires found and finished here fill a niche worldwide. Sapphire mining is available year-round in Philipsburg at The Sapphire Gallery, Montana Gems of Philipsburg, and Gem Mountain. Enjoy a different kind of hunt – the hunt for rare treasures! (source: Philipsburg Chamber of Commerce).
Plan to do a little sapphire mining before or after your Montana Dude Ranch vacation.  You can also buy bags of gravel in Philipsburg – what a great souvenir!  Then you can do a little sapphire mining at home. This is a great family activity or one to share with friends and relatives, and instructions on how to best sift through the gravel are provided.  The raw sapphires look like small pieces of a broken Coke bottle and can be sent back to Philipsburg for heat treating, which brings out the color, and faceting.  Or, you can take your finds to a local jeweler.
Our other state gemstone, the Montana Moss Agate, is a transparent to translucent chalcedony found in the Yellowstone River Basin of southeastern Montana. It is often clear but can have a translucent white, gray, yellowish, or reddish-brown base color.
Montana Moss receives its name from its black dendritic to mossy to geometric-shaped inclusions. This distinctive appearance is what makes Montana Moss Agate recognizable and popular. The black inclusions are thought to be a manganese oxide. The reddish-brown color of some specimens is thought to be caused by small amounts of iron oxide in the agate.
These agate nodules formed in cavities and voids of the igneous bedrock and ashfalls that occur in this area. The nodules often have concentric banding with occasional drusy centers. They are much more resistant to weathering than the bedrock, and that concentrates them in soils and stream gravels.
Montana Moss is an abundant agate. It occurs over a broad geographic area instead of at a single deposit. This wide distribution was created by regional magmatic and hydrothermal activity of the Yellowstone Region.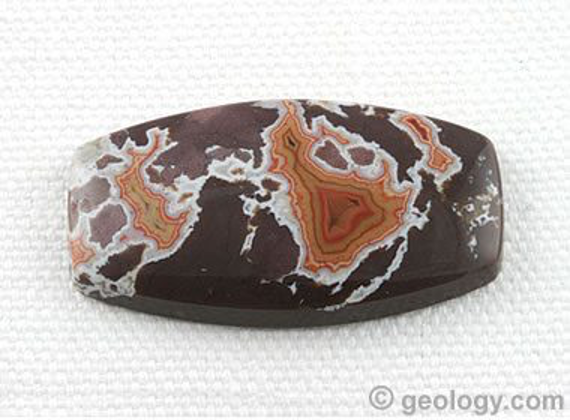 Dryhead Agate is one of the most beautiful agates found anywhere. It is found in an area of southeastern Montana bounded by the Big Horn Mountains, the Pryor Mountains, and the Big Horn River. In this area, oval-shaped agate nodules are found as they float in soil and in stream sediments.
The quality of the nodules varies. Most are only a few inches across. Some of the best ones have a thick chocolate-brown rind and a fortification agate interior. Bands of agate within the fortifications can be white, yellow, orange, pink, red, or brown in color. The centers can be solid agate, drusy quartz, or hollow. Lower quality specimens can be smoky or have calcite mixed with the agate. Those with thick areas of colorful banded agate produce the best cabochons. Before cutting one into slabs, you should know that many collectors of natural agate will pay a spectacular price for them. Hundreds of dollars are often paid for half of a sawn and polished Dryhead Agate that is only a few inches across.  (source: Geology.com)
In addition to a great dude ranch vacation, Montana provides an interesting, educational and fun activity that can be found within a reasonable drive from some of our member ranches.  Try to fit it in and find the Montana gem of your dreams!